SURFING AMERICA TAKES ISA JUDGING AND OFFICIATING PROGRAM TO VIRGINIA BEACH FOR EAST COAST SURFING CHAMPIONSHIPS
Course provides opportunity for anyone interested in learning more about judging criteria and methods used in top surfing competition around the world
San Juan Capistrano, Calif. – August 8, 2013 – Surfing America, the National Governing Body for surfing in the USA, is pleased to announce that it will be holding its fifth popular ISA Judging and Officiating Course on August 18, 2013, Virginia Beach, VA, at the Best Western Virginia Beach.  This event is designed to coincide with the East Coast Surfing Championships and falls on the day before the competition begins.
The ISA Judging & Officiating Development Program is the result of 15 years of research and development and is recognized as the most comprehensive judging education program in the world.  The program has been completely updated and this program will feature new material, never before presented in the USA.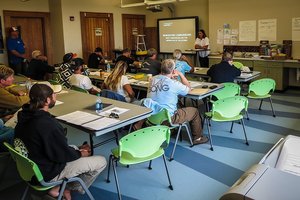 Surfing America and the ISA are both committed to the continued growth and success of surfing worldwide and recognize the need for a standardized accreditation course. The quality and credibility of every competition hinges on the education of its officials. And judging is the cornerstone upon which this credibility is measured.
"Developing a judging education program like this is extremely important to the future of our sport," said Erik Krammer, Surfing America's Judging Director. "And the fact that this same program is being offered globally will help to ensure consistency all around the world."
All judges that complete the ISA Judging & Officiating Accreditation Course are registered on the ISA International Judge's Register for 1 year and receive newsletters and an official ISA International Judges' Identification card.
"Our first four events were a great success, receiving high marks from all those in attendance" said Greg Cruse, Surfing America's executive director.  "Fair and accurate judging is the foundation of well run competition.  With all the variables in surfing, maintaining the highest caliber of judging is essential.  This important initiative speaks to Surfing America's Mission Statement and further enhances the organization's role as the National Governing Body for surfing in the United States.  We plan to help all Surfing America member organizations become actively involved in this program as well–ensuring the competitive pathway is uncluttered as it can possibly be with regard to consistency and understanding about judging and contest results."
Here are the event details:
The Best Western Plus Oceanfront, Virginia Beach
Who:       Judges, Officials, Competitors, Coaches, Parents, and all interested parties!
When:     Sunday, August 18, 2013, 9:00 am – 4:00 pm
Where:    Best Western Plus Oceanfront Hotel, Meeting Room
2809 Atlantic Ave, Virginia Beach, VA, 23451
Click for MAP
Presenter:  Erik Krammer, Surfing America Judging Director, [email protected]
Price:  $100 (includes coffee, lunch and refreshments)
Sign-up: On-line Registration only – REGISTER HERE NOW
Content:  A globally standardized educational program for the sport of surfing utilizing a newly updated extensive judging course manual and interactive DVD which will provide International Level 1 Certification, International and National Registration, and access to the International Judges Exchange Program.  Attendees will leave with a course manual.
Questions?  Contact [email protected]